What is an ignition coil?
The ignition coil is like a transformer that increases the 12V voltage of the battery to a high voltage of tens of thousands of volts; at the same time, it is an energy storage device to ensure that the spark plug continues sparking. The ignition coil is made using the principle of electromagnetic mutual induction.
Classification of ignition coils:
1、Classified according to internal filling:
Oil ignition coil, Dry ignition coil
2、Classified according to the shape structure:
Pen ignition coil, Fake pen ignition coil, Multi-head ignition coil
3、Classified by product performance
Open magnetic circuit ignition coil, Closed magnetic circuit ignition coil
Ignition coils advantages:
1、Warranty is 24 months, more than other factory of 12 months.
2、Each product has passed 100% 38-40KV open circuit test, which is higher than the other factory of 35KV open circuit test standard.
3、The product quality inspection is strict, and it has gone through 6 quality inspection procedures.
4、Complete ignition coil product models, we develop Japanese/Korean/European/American/domestic car series models.
5、Develop original low heating technical, for enhance reliability, reduce temperature rise, and increase product service life.
Product specifications:
| | |
| --- | --- |
| The MOQ | one piece |
| Warranty time | two years |
| The lead time | 4 days |
| OE No. | 30520-PWA-003 |
| Car type fit for | Honda |
| | | | | |
| --- | --- | --- | --- | --- |
| Characteristic | Mark | Condition:f =50Hz,VCC=13.5V,TA=25±3℃ | Specified value | Unit |
| Operating Voltage | VCC | Signal amplitude 5V, pulse width 3.4mS f =50Hz | 13.5 | V |
| signal frequency | f | Temperature 20±10℃ | 50 | Hz |
| Input Current | IC | Signal amplitude 5V, pulse width 3.4mS f =50Hz | 6.8-7.8 | A |
| Primary resistance | RP | Temperature 20±10℃ | 0.6~0.7 | Ω |
| Secondary resistance | RS | Temperature 20±10℃ | 8.0~9.0 | KΩ |
| Primary inductance | LP | Frequency 1KHZ | 2.8~3.4 | mH |
| Secondary inductance | LS | Frequency 1KHZ | 15.0~18.0 | H |
| Secondary voltage | VOUT | Signal amplitude 5V, pulse width3.4mS f =50Hz | ≥32 | KV |
Ignition wires are generally applied in Auto ignition system.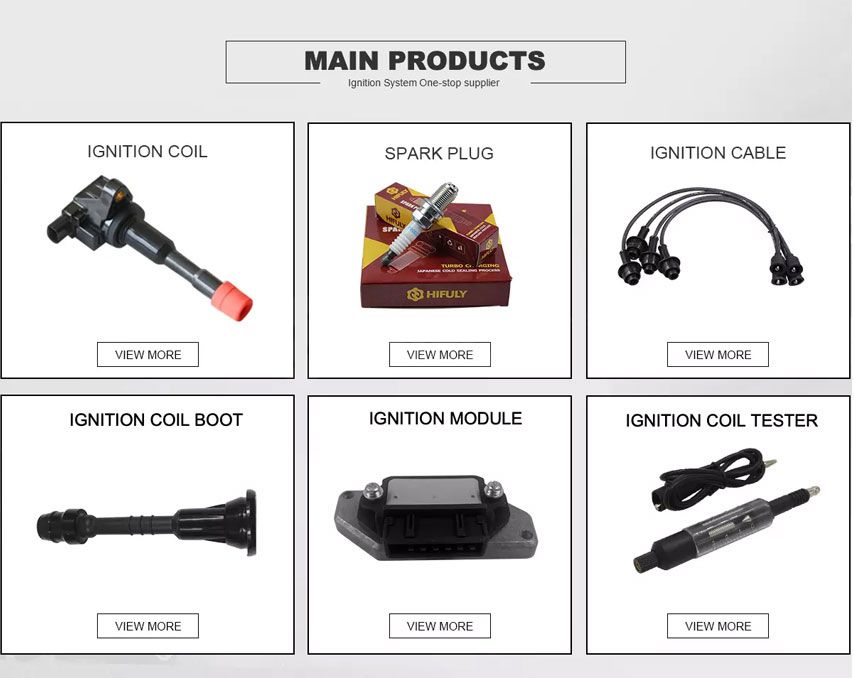 About Us
Mr. Zhou yao, Chairman of Hunan Hifuly Technology Co., Ltd., graduated from Shanghai Tongji university in 1991, then worked for Changsha automobile electric factory on auto ignition coil R&D.

He worked out china the first Dry ignition coil of OEMs suporting for Beijing Cherokee in 1994s. He had devoted his whole life to the cause of ignition coil.
In 2008, Mr. Zhou Yao founded Hunan Hifuly Technology Co., Ltd, now our company was the largest sales manufacturer of ignition coil brand in china after market.
Hifuly company has nearly 200 employees and two ignition coil produce lines, the annual capacity is 5 millions pieces.
Hifuly adhere to the principle of quality first, and passed TS16949 certificate in 2013.
We use the high quality materials: The copper wire from Germany ELEKTRISOLA; The epoxy from Japan; The plastic parts made by Germany BASF.
Hifuly insists on china most strictest ignition coil factory inspection, all products must be checked by 38KV open load test.
Hifuly provide best service to our customers, help our customers get more benefit easily without any risk. Many customer's sales were keeping increase steady because cooperate with Hifuly.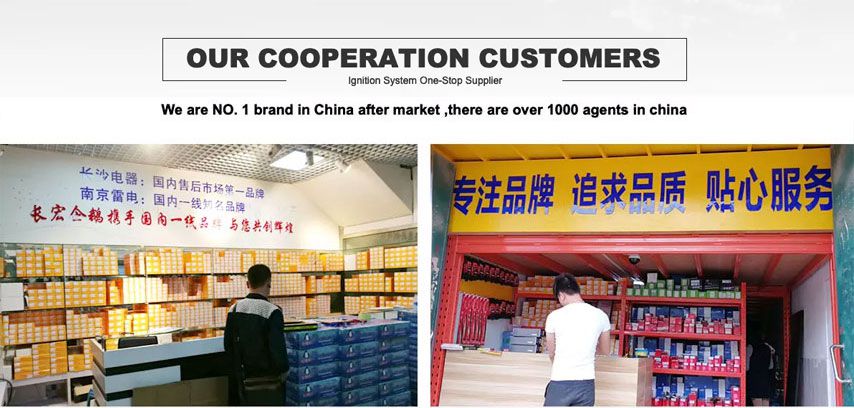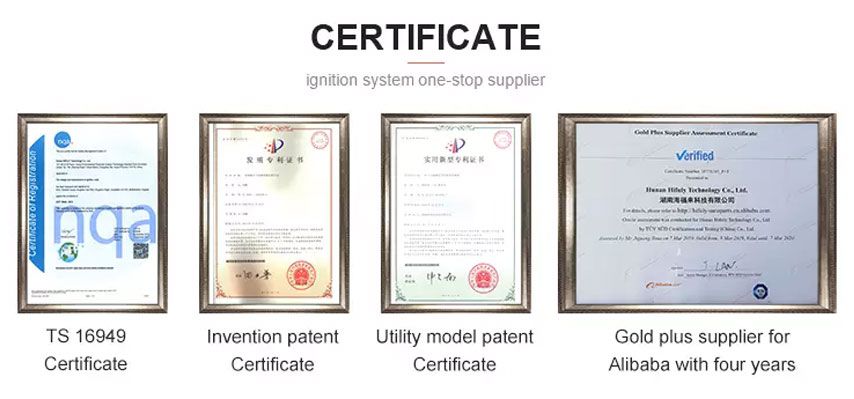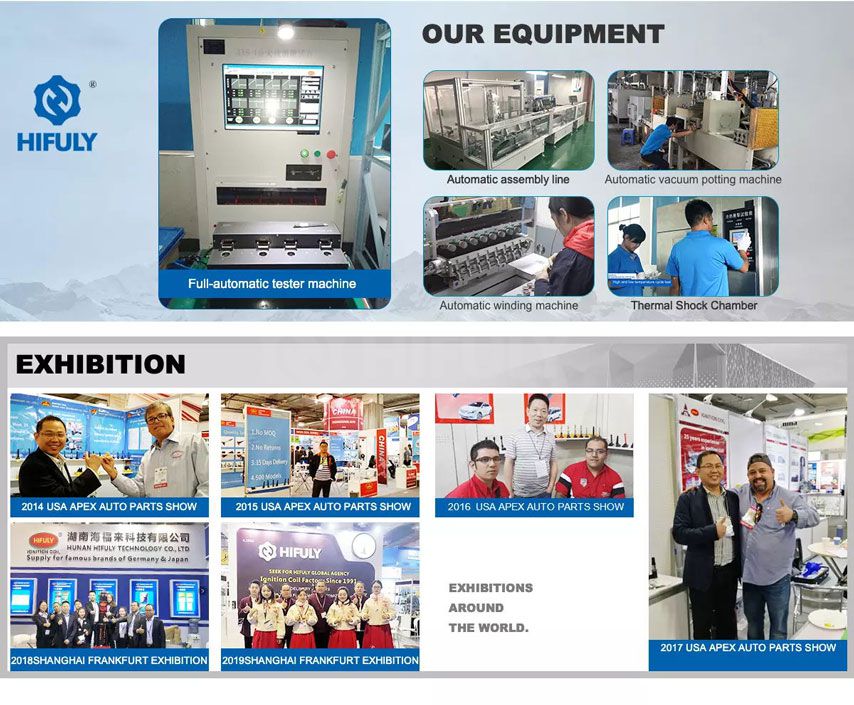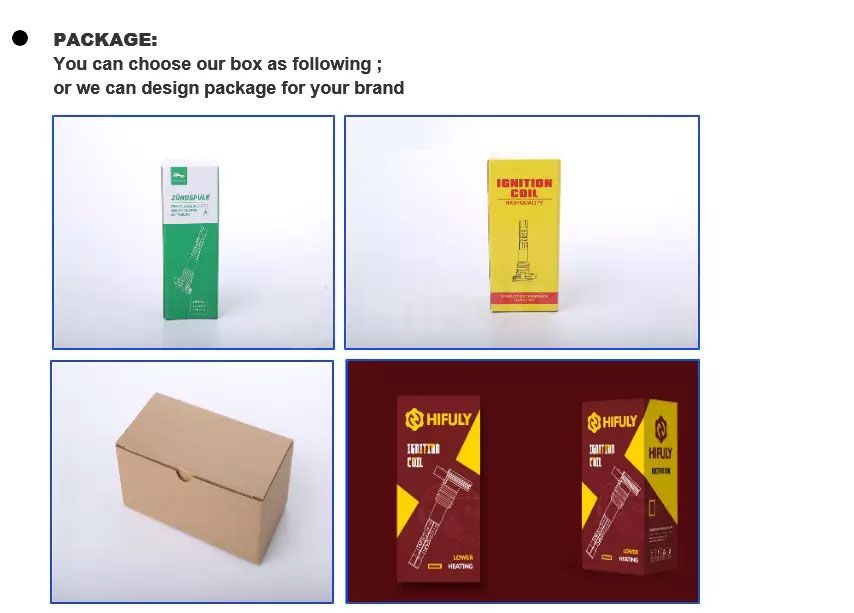 FAQ
Q1:Are you ignition coil manufacturer or the trade?
We are ignition coil manufacturer.
Q2: How about the warranty?
Two years.
Q3: How about the lead time?
Four days.
Q4: What's your MOQ?
One piece.
Q5: How about the shipping way?
We can send door to door by plane or by sea.
Q6: How about the package?
We can design package as your require.